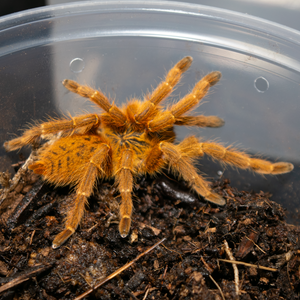 Orange Baboon Tarantula OCF (P.murinus)
Sale price

$40.00

Regular price
The Orange Baboon Tarantula, scientifically known as Pterinochilus murinus, is a highly sought-after arachnid species beloved by tarantula enthusiasts. Originating from the dry savannas of West Africa, this tarantula exhibits a striking appearance distinguished by its vibrant orange coloration, earning it the nickname "Orange Bitey Thing" (OBT) among tarantula enthusiasts.
With a robust build and a dense covering of hairs, the Orange Baboon Tarantula possesses a captivating presence. These hairs serve as sensory organs and a defense mechanism, as the tarantula can flick them when threatened, causing irritation to potential predators.
Known for its feisty and defensive nature, the Orange Baboon Tarantula can exhibit aggression and a quick biting response when provoked. Its venom is potent, capable of causing discomfort or pain, highlighting the need for experienced handlers.
In captivity, providing an appropriate enclosure with suitable substrate for burrowing and a shelter is crucial for the Orange Baboon Tarantula's well-being. It is an opportunistic carnivore, primarily feeding on insects and other small invertebrates.
While captivating to observe, responsible ownership and cautious handling are paramount when it comes to the Orange Baboon Tarantula. Respecting its specific needs and requirements is essential due to its defensive behavior and potent venom.
TYPE
Terrestrial


SCIENTIFIC NAME
Pterinochilus murinus
ORIGIN
Angola, Burundi, Tanzania, Dem. Rep. Congo (Zaire), Kenya, Mozambique, South Africa, Zambia and Zimbabwe


HABITAT
Sling- Sling box or 16oz deli cup
Juvenile - 7x4x4 enclosure
Sub-Adult - 9x6x6 enclosure, 2 ½ or 5 gallon tank
Adult - 12x8x8 enclosure or 10 gallon tank
Provide them with a cork bark hide, water dish, a little sphagnum moss (optional) and straight coco fiber. However a substrate like jungle mix or creature soil which is mainly peat moss, a little soil and a small amount of sand. Coco fiber works very well and is the least expensive.
DIET
Roaches
, crickets and mealworms is our recommended foods. However, superworms are also acceptable when they reach adulthood.
TEMPERATURE
70-90F, heating generally isn't a concern with this species, and they do well at room temperature.
HUMIDITY
60%-65%, slings should stay on lightly moist substrate, adults should have a water dish and a corner of their enclosure that goes through a wet/dry cycle, moistening the substrate and then leaving it alone until it dries out.
ADULT SIZE
Adults can reach 
up to 6" diagonal leg span.
LIFESPAN
4-20 years (Males 4-5 years, with females drastically outliving them at 20+ years)
SOCIAL BEHAVIOR
We do not recommend keeping tarantulas as they will cannibalize each other. Its best to keep tarantulas in individual enclosures.
ALL INVERTEBRATES ARE SHIPPED MONDAY TO ENSURE LIVE ARRIVAL


*Live Arrival Guarantee on "Overnight Shipping"*
Use left/right arrows to navigate the slideshow or swipe left/right if using a mobile device
Choosing a selection results in a full page refresh.
Press the space key then arrow keys to make a selection.